Trasport of Chemical Products
Setras carries out the transport of chemical products using road and intermodal transport.
We are specialists in ADR transport (road), RID (Railway) and RINA (Sea) and our equipment/vehicles are inspected for all forms of risk.
With its logistics bases located in northern Italy, central Italy and in Sicily, Setras ensures widespread coverage in all areas, national and international, for short and long-distance transport.
Abroad in major European cities, Setras uses primary transporters that carry out on its behalf the terminal service (loading and unloading of containers).
High Temperature Transport
For over 40 years Setras has specialized in high temperature transport, up to and over 300°.
It has insulated tankers with jacketed valves and steam heating coils.
The transport service, both by road and intermodal, is carried out across the whole of Europe.
Transport of Industrial Waste
Over the years Setras has organized itself, with its many road and intermodal transport vehicles, to carry out the clearance of industrial sites, clearance of tanks and of landfills. With its fleet of vehicles it has guaranteed national and international transport for over 30 journeys per day.
Setras staff expertise and their capabilities in the railway sector can also guarantee the customer any formations of complete trains or full daily deliveries of either tank containers or open Top tipper containers.
The company Setras carries out road and intermodal transport for all ADR classes, across all national and international territory, for both liquid and solid products.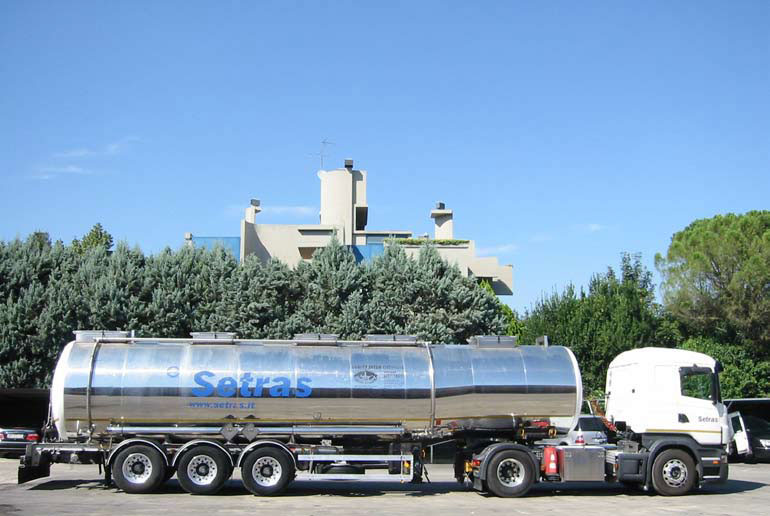 The Company Setras carries out National and International Transport. We carry out road and intermodal transport of all the ADR classes in the whole of Europe, for both liquid and solid products. Setras holds the following authorizations for the international transport of waste:
Setras carries out bulk transport, for both road and intermodal transport in the whole of Europe.
Vehicle Park

40 road tractors
2 Roll-off tractors
30 contracted haulers
70 tanks with multi compartments, single compartment or with hydraulic pump, in either steel AISI 316 L or with ebonite lining.
30 tipping containers 40 and 50 mc
20 tippers
60 container holders of 20, 30 and 40 feet, both traditional and tipping
150 tank containers for all capacities
200 open top tipping containers, 20 and 30 feet.
Other Services

Insurance: The company Setras has all the types of insurance which can ensure maximum security to customers.
Authorization: The company has Authorization for international transport throughout the whole of the EEC and non-EEC (Authorizations CEMT and Carnet-Tir). Customs Services
Custom Services: The company offers an assistance service for all customs procedures.
Workshop Garage: The company Setras has its own workshop for the periodic maintenance and screening of its whole vehicle fleet.
Cleaning: At the headquarters in Narni, Setras has installed an industrial cleaning plant for cleaning tanks.
Setras is registered in the National Register of Companies that carry out waste management for the following categories and classes:
Setras also holds the following international authorizations: